Zelma continued to provide chaplain's care to hospice patients while serving as coordinator of spiritual care for Unity

Health Management Services in Birmingham. She and Pat helped Laura move her worldly goods from Baton Rouge to Louisville in a hot week in mid-summer, and managed to get away for a long-delayed vacation to South America in October. To read more about Zel's work, click here.
Pat is in his fourth year as North American representative for Hong Kong Baptist University, the only Christian university in the Peoples Republic of China. He went to Hong Kong just after Thanksgiving to participate in graduation activities and to meet with university officers. He also was pleased to help launch the Duke K. McCall Chair of World Christianity at Baptist Theological Seminary at Richmond,VA, honoring his mentor, the former president of the Baptist World Alliance.To read more about Pat's work, click here.
---
Finally, 10 months into the year, we found time for a vacation . . .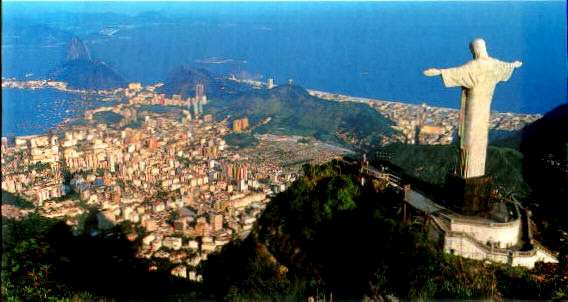 In early fall, we took the cable car to the top of Corcovado to see the spectacular view of the sprawling c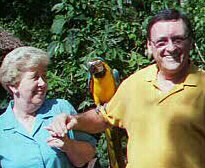 ity of Rio de Janeiro from the base of the 120-foot-tall statue of Christ the Reedemer. It was just one of the
many highlights of our visit to South America, which included a behind-the-scenes tour of Teatro Colon, the elegant, world-famous opera house in Buenos Aires, and a walk through a colorful exotic bird sanctuary in the rainforest. We ate far too much at Mariu's, a traditional Brazilian churasscaria (BBQ) where the waiters keep bringing
skewers of rotisseried meat to the table until you beg them to stop!
In Rio, we were taken on a "backstairs" tour by missionaries Guy and Elena Key, who showed us not only the wealthy Ipanema district, but
Latin America's largest favella, home to more than 150,000 squatters . . . We visited the tomb of Evita Peron and attended a traditional tango performance and dinner in beautiful Buenos Aires . . . then went to an Argentine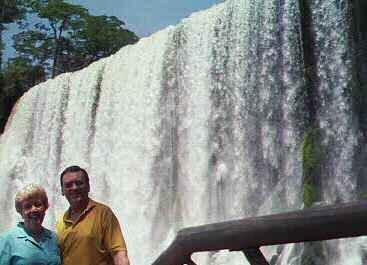 cattle station in the Pampas for a lively Gaucho festival . . . and stood in awe of the colossal 2-mile-wide cascades of Iguassu Falls, where the borders of Argentina, Brazil and Paraguay come together. . .
On reflection, one of the most enjoyable vacations we've had in years, captured in the view of Sugar Loaf and Copacabana from our hotel, below.




---
Now, an update on the next generation . . .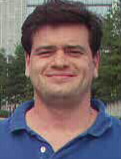 Stephen moved from Washington, DC, to Singapore, where he manages an overseas office for the U.S. Business Council of ASEAN (the Association of Southeast Asian Nations). It is his sixth year with this international 'chamber of commerce' that links 10 nations in the Orient with 500+ U.S. corporations. After spending Christmas week in Birmingham, he will ring in Y2K in Sydney, Australia. You can write Stephen at this email address.
Laura took a break from teaching English and writing her Ph.D. dissertation at Louisiana State University in Baton Rouge to participate in a 1999-2000 literary assignment with Actors Theatre of Louisville, the state theater of Kentucky and one of the nation's top-ranked regional theater organizations. She's delighted to be returning to her childhood hometown, if only for a short time. You can write Laura a note at this e-mail address.

---
And a tribute to the previous generation . . .
Pat's dad, W. M. Pattillo, Sr., a widower full of personality and optimism,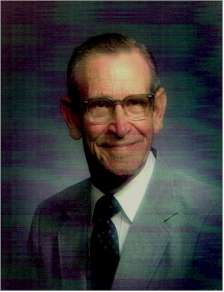 died February 8 of emphysema, just nine weeks short of his 87th birthday. Born into the family of a Methodist circuit-rider and home missionary in South Alabama, he had two long careers as a grocery executive with Delchamps and Kroger, and had spent a happy 25 years in retirement at his home in Vestavia Hills, a suburb of Birmingham not far from where we live. Zel and Pat had spent most Saturdays in a delightful ritual of lunch and extended conversation with this lively and alert octogenarian. He was a devoted churchman at Shades Mountain Baptist Church. He also loved gardening, and we now have on our deck one of his prized pink geraniums, which has blessed us with full bloom all summer and fall, reminding us of him.
---
millennium n. A hoped-for period of joy, serenity,
prosperity, and justice. [American Heritage Dictionary of the English Language].

Our wish for you and yours
as we stand between the centuries
is a daily life made abundant by the love of God,
wonderfully revealed in the face of Jesus.
Pat and Zel
---